24 Gourmet Flavors on Tap!
Frozen Cocktail Beverage Machines

Welcome to Monterey Margarita Man! We're America's Margarita Machine of choice and have your Frozen Cocktail Machine Rentals and Gourmet Drink Mixes for any event.Frozen cocktail machine rentals for parties, weddings, class reunions, corporate events, company outings, birthdays, anniversary parties, festivals, holidays and so much more - the opportunities are endless! Monterey Margarita Man will deliver the Margarita Machine before your event, set-up your first batch and then return after the event to pick up your margarita machine rental. All you have to do is add your spirits, champagne, or wine of choice.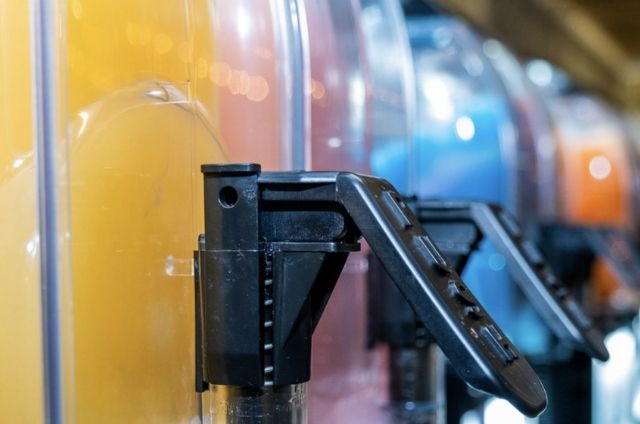 Rent Your Frozen Drink Machine
The Reservation Process is Super Simple:

1. Select the date and time of your event or party.

2. Select the items you are interested in and add to cart.

3. Input your information, as well as where the event will be held.

4. Pay a small deposit or pay in full.

That's it!
Book Now!
Made with Real Fruit Puree
Let the Monterey Margarita Man delight your guests with a shiny clean and sanitized Margarita Machine. We make your first batch and show you how to operate the machine, leaving easy instructions for mixing additional batches. It's simple and tasty! The Margarita Man's natural mixes are made with real fruit purees in a family tradition that began over 100 years ago in old San Antonio Texas!

We have plenty of supplies to leave with you so you won't have to be concerned with running out. Un-used mixes can be returned at pick-up for full refund or simply keep them to enjoy in both Frozen and "On the Rocks" Gourmet Fruit Puree Mix beverages at your home!
Margarita Machine Rental in Monterey
Let's get your party started! Serving Monterey and San Benito Counties with the pleasure to extend our service area to Santa Cruz, Scotts Valley, Gilroy, Morgan Hill! Book your frozen beverage machine with Margarita Man for any party or event gathering. Margarita Man is the largest and most established supplier of frozen drink machines. If you are hosting an event in the Monterey or San Benito County areas contact Monterey Margarita Man for delivery of our high quality mixes and machines.