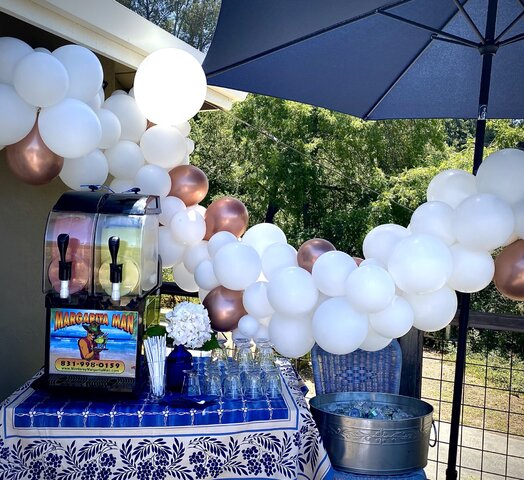 The Pacific Grove Two Flavors Double Bowl Deliver and Pick-Up Rental
(For up to 75 guests)
Double Bowl Granita Margarita Machine $249.00
*Serves 50 guests over 1-1/2 hours or 100 guests over 4 hours.
Included in Margarita Machine Rental:
1 frozen drink double bowl machine with a skirted table
2 free gourmet drink mix concentrate. Select two of 24 flavors!
100 Hard Plastic 10oz. Clear Cups (on request if needed)
100 White 5-3/4" Sturdy Paper Cocktail Straws (on request if needed)
Spring water for your two flavor batches
Upon delivery we will mix your drink mix batches and demonstrate how to operate.
No cleaning when the party is over
Just turn off the machine!
ALL YOU DO IS PROVIDE THE ALCOHOL!
Deliveries are typically between the hours of 10:00 a.m. and 12:00 p.m. depending on our logistical schedule and event times.

Next Day Pick up hours are typically between the hours of 10: 00 a.m. and 12:00 p.m.

Same Day pick up and other pick up hours are subject to additional charges.
HERE'S AN IDEA TAKE YOUR EVENT TO THE NEXT LEVEL,
LET MONTEREY MARGARITA MAN SERVE YOUR GUESTS!
Based on availability with advanced request, we can provide a beautiful rustic portable 5' bar or our mobile vintage bar. Our bartending services include pouring the frozen gourmet cocktails, beer and wine, mixed drinks and other beverages you provide! This way you do not have to attend to the machine(s), cutting up limes and or drink garnish or mixing. Your guest recieve professional service with a smile and best of all you get to relax enjoy your guests and special occasion! Let us know if you would like a quote!
CLICK
HERE
FOR BARTENDING PACKAGES!
See other "Add On" items
Allow 1-1/2 hours for freeze time depending on the weather.
*Required 120 Volt - 15 AMP Outlet dedicated to the Margarita Rental Machine.
Do not run other appliances on the same circuit without risk of damage which you are responsible.