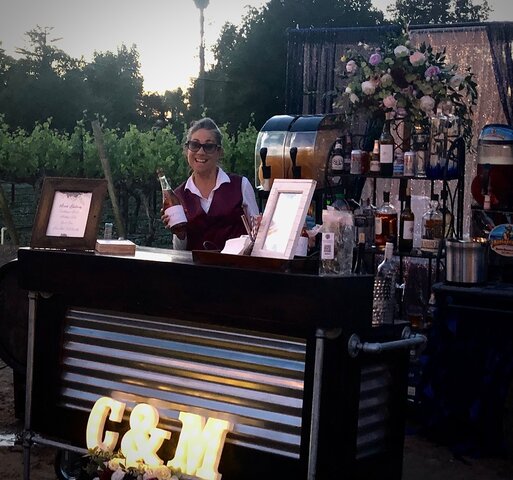 Event Bartending Packages Starting at $899.00

Bartending Services
Margarita~Daiquiri Frozen Gourmet Cocktails
Mixed and Craft Signature Cocktails
Monterey Margarita Company mobile bartending services based in Salinas, CA for parties, weddings, corporate and events. This husband-and-wife duo personalizes each service to match a client's vision and budget. From their frozen and "on the rocks" margarita, frose' and daiquiri cocktail machines to their portable bars and vintage horse trailer mobile bar setup, they will ensure your big day is a success with their professional staff and the most delicious gourmet drink mixes made with pure cane sugar, real fruit purées and no high fructose syrups.
Owners Gary and Carmen Miller have decades of hospitality experience under their belts. They started this business in 2018 and have been assisting their clients with their event libations experience ever since. While based in Salinas, they are happy to travel to venues throughout Monterey, Santa Cruz, San Benito, Santa Clara and beyond.
Monterey Margarita Company Bartending Services can accommodate most any event theme and will customize their offerings to match your event colors and style. After your first consultation, the team will curate a drink menu, complete with garnishes, rimmers, mixers, and other details. Their decor options and careful planning will ensure you and your guests have the highest quality bar experience!
For a quote, please inform us of the following:
The Date
The Time
Guest Count
What is the Occasion
Will we be serving, Beer, Wine and other beverages?
Will we be serving cocktails?
Will you want addditional Signature Drinks?
Monterey Margarita Company's bartending service is like no other bartending service. In addition to our professional bartending, our portable bar service includes commercial frozen cocktail and "On the Rocks" machines that are ready to serve the most delicious gourmet cocktails enhanced with our special syrups, rimmers and garnishes!
We are ready and always available to work with you and/or your coordinator. Our staff will ensure warm, personal friendly service for the most wonderful experience for you and your guests!
*Monterey Margarita Company does not provide or sell alcoholic beverages. Customer provides the alcohol.

Included in our base package pricing:
Custom drink menu, floral, fabric and decor to coordinate with your theme

4 Hours of Bar service

Gourmet drink mix concentrate

Bar tools, Ice and drink containers

9oz plastic cups (if applicable)

Heavy duty paper straws (if applicable)

Drink Menu Consultation

Host tip

Sales Tax

Travel Fee

General liability insurance
Liqour liability insurance
**Included Travel fee for Carmel Valley, Carmel, Monterey, Salinas, San Juan Batista, Hollister, San Martin, Gilroy and Morgan Hill. Outside of those areas a travel fee will be quoted based on mileage and travel time. Alcohol, spirits, soft drinks, bottled water, beer, wine etc. is not included. Monterey Margarita Company will assist you in creating a beverage shopping list. We do everything possible to make your experience worry free so that you can enjoy your special day!
Pricing Guidelines based on optional packages:
Up to 100 Guests - Margarita/Daiquiri Service
$899.00 to $1,299.00
Up to 200 Guests - Margarita/Daiquiri Service
$1,299.00 to $1,999.00
Up to 300 Guests - Margarita/Daiquiri Service
$1,699.00 to $2,499.00
Up to 400 Guests - Margarita/Daiquiri Service
$1,999.00 to $3,299.00
Up to 500 Guests - Margarita/Daiquiri Service
$2,499.00 to $3,899.00
WINERIES - FUNDRAISERS - CORPORATE - By Quote