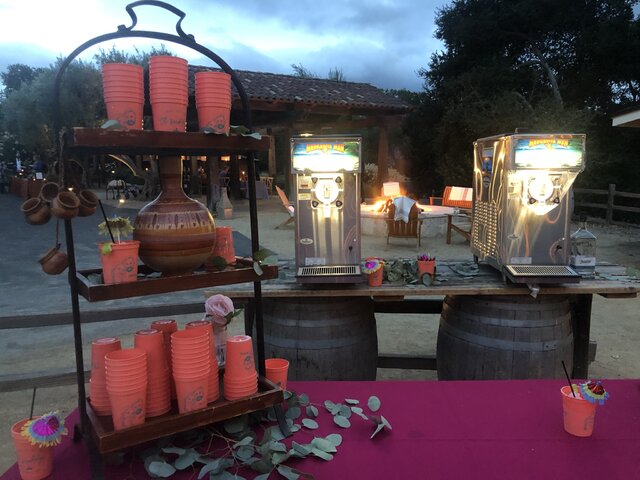 The San Benito Margarita Machine Deliver and Pick-Up Rental
(For 100 to 200 Guests)
THE SAN BENITO MARGARITA MACHINE RENTAL PACKAGE
$349.00
*Good for approximately up to 100 guests over 1-1/2 hours or 200 guests over 4 hours.
Rental includes:
2 frozen drink machines with a skirted carts
2 free drink mix concentrates.
Additional mixes are $27.50
(No charge for mixes returned unopened)
100 Margarita Man 9oz cups
100 White Cocktail Straws
Upon deliverey we will demonstrate and mix the first drink mix batch.
Provide drink mix batch recipe
No cleaning, when the party is over,
Simply turn off the machine!
Spring water for first two batches
ALL YOU DO IS PROVIDE THE ALCOHOL!
Deliveries are typically between the hours of 10:00 a.m. and 12:00 p.m. depending on our logistical schedule and event times.
Next Day Pick up hours are typically between the hours of 10: 00 a.m. and 12:00 p.m.
Same Day pick up and other pick up hours are subject to additional charges.
Let Monterey Margarita Man serve your guests! Click HERE for bartending options!
*Required 120 Volt - 15 AMP Outlet dedicated to the Rental Machine.
Do not run other appliances on the same circuit without risk of damage which you are responsible for.